Herbal Medicine Store
Description
Vinh Phát Herbal Chinese Medicine Store
A Chinese herbal medicine
store on Hai Thuong Lan Ong street. Hai
Thuong Lan Ong (1720 – 1791) is a name of a
talented medical practitioner.
Many of the medicine
stores have green/ blue as the main color for
their banners to emphasize natural and
organic ingedients of the medicine.

Nhà THUỐC Y Học Cổ Truyền Vinh Phát.
Đây là một nhà thuốc y học cổ truyền trên đường Hải Thượng Lãn Ông. Hải Thượng Lãn Ông là một danh y tài ba sinh năm 1720 và mất năm 1791. Rất nhiều tiệm thuốc cổ truyền ở Sài Gòn dùng màu danh là màu chủ đạo để nhất và tượng trưng cho sự tự nhiên trong nguyên liệu thuốc họ dùng.
Subject
herbal medicine store, chinese, vietnamese, monochrome, green, multitypo
Coverage
Hai Thuong Lan Ong st, D5
Media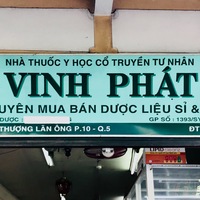 t_2018_herbal_store.jpg
Item sets
Citation
Tran Bich Tuyet Nhi. "Herbal Medicine Store.", Saigon Typography, accessed September 30, 2023, https://typographyvn.rmit.edu.vn/s/saigon-typography/item/3584