Agricuture co-op
Description
Agricuture co-op 1
The metal sign was heavily rusted. It is almost impossible to determine the color of the text on it.

Hợp tác xã nông nghiệp 1
Chiếc bảng hiệu kim loại đã bị rỉ sét nặng nề. Gần như không thể xác định được màu sắc của chữ trên đó.
Subject
mental, fated, co-op, handpainted, bold, square,vietnamses, san serif
Media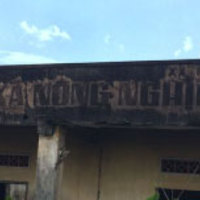 t_sg_2018_coop.jpg
Item sets
Citation
Nguyen Thi Ha Phuong, "Agricuture co-op",
Typography in Vietnam
, accessed 5 June 2023,
https://typographyvn.rmit.edu.vn/s/vn/item/3520
.
Output Formats