Shop
Description
Bạch Tuyết paint store
Big elegent letters were painted beautifully accompained with bold simple letters to ease the complexity.

Đại Lý Sơn Bạch Tuyết
Tên cửa hàng được vẽ lớn thanh lịch, kèm theo đó là chữ in đậm đơn giản để giảm bớt sự phức tạp.
Subject
Paint store, red, blue, multitypo, bold, boder
Media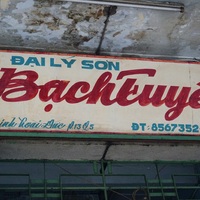 t_sg_2018_shop_6.jpg
Item sets
Citation
Huynh Man Quoc, "Shop",
Typography in Vietnam
, accessed 29 March 2023,
https://typographyvn.rmit.edu.vn/s/vn/item/3566
.
Output Formats