Pagoda
Description
Tue Lam Hoi Quan is a
place for the silversmiths to worship their
ancestors. This place was built in 1892 and
retored in 1934.


Tuệ Lâm Hội Quán là một
nơi để các thợ bạc thờ phụng
tổ nghề. Nơi này được xây dựng vào năm 1892 và
trùng tu vào năm 1934.
Subject
Blue, yellow, red, multitypo, illustrate, shrine, pagoda, temple, Vietnamese
Media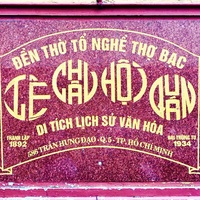 t_sg_2018_pagoda5.jpg
Item sets
Citation
Tran Bich Tuyet Nhi. "Pagoda.", Typography in Vietnam, accessed September 30, 2023, https://typographyvn.rmit.edu.vn/s/vn/item/3576